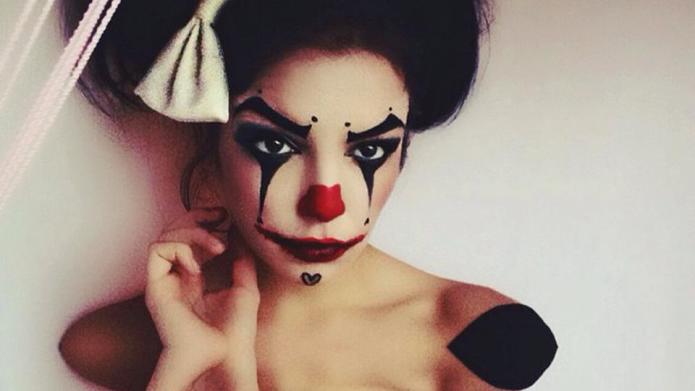 Every year, on night between 31st of October and 1st of November streets of our cites are full of ghosts, witches as kids dressed up as their favourite comic heroes yelling 'Trick or treat!'. This is how Halloween is celebrated in the UK and the USA. There is yet another thing that connects both countries on the very night – the race of the scariest and the most intriguing Halloween make-ups. Below, you will find directions on how to do one of them.
What characters do you associate Halloween with? Witches, zombies, mummies, vampires and many other ghouls and bogymen. Obviously, the make-up has to match the outfit you are going to wear that night. However, there are a few general rules, which have to be followed in order to do perfect Halloween make-up.
First of all, the more scary make-up is, the better. Mind you, your stylisation (make-up, outfit and hairdo) has to look as natural as possible. Only this kind of look makes people run away from you with fear in their eyes.
Secondly, collect appropriate cosmetics. Generally, Halloween make-up should be done using very pale foundation, a powder of similar shade, dark eyeshadows and a bloody-red lipstick. You can also make use of other colour cosmetics if you are eager to create less scary creature. Surely, dark circles around eyes (made due to a violet eye pencil or eyeshadows) as well as stitches and wounds (done thanks to a red eye pencil) will look fairly frightening. What is more, do not hesitate to make a good use of all the gadgets available in shops in a few weeks before the very holiday. You can choose among fake fangs, tattoos imitating battered body, masks, fake blood and colour contact lenses.
How to do Halloween make-up? Below, you are going to find guidelines providing you flawless transformation into a zombie. In order to do such a make-up, use body paints, smoky eye eyeshadows, a red lipstick, a black eyebrow pencil, a bright powder and a foundation. Start your Halloween make-up from applying the foundation. Pat it into the skin using either your fingertips or a make-up sponge. Fix the foundation with a powder, most preferably, apply the powder of mattifying properties to prevent the make-up from running down your face in the middle of a party. After that, use the darkest eyeshadows you have (either black or blue) and try to apply smoky eye. Contrary to your daily make-up, now you can apply huge amounts of dark shades and put on thick layers of the cosmetics in the inner corners of the eyes. Remember to add more dark blue, black or dark grey eyeshadow under eyes, just to create natural-looking bruises. Define the eyebrows with the black pencil and coat the eyelashes with a black mascara. Coat your lips with the red lipstick. Finally, you can move your hand a little bit further crossing the edges of your lips. Now, reach for a red body paint and apply blood stains on cheeks, chin, neck and cleavage.
Your Halloween make-up is now ready! Obviously, do not forget to match your outfit and a hairdo with the zombie make-up. Old, well-worn clothes as well as tangled hair will be the perfect match to your zombie make-up.